It is documented the FDA has proven useless since the 1930s. It should be dismantled with others in the useless category including the Dept. of Education. Doing nothing to expose the rapidly increasing cricket-food profiteers – and thousands of unlabeled nano-particle injected edibles – its seriously complicit nature is now over the top…
My most recent firsthand experience with cricket foods occurred just hours ago. There, in an upper-level luxury retirement home for seniors – which I visit weekly – was an unusually large amount of cricket cookies. For human consumption in the public coffee area, freely available to elderly residents, staff and visitors…
From a pile of three-part large triangle cookies, I tried one. One outer cookie crust was white, the other brown. Both were fairly tasteless with an unusual texture. Made from cricket flour. The middle filling resembled mince meat but darker, with little black spots throughout, like raisin wanna-be's, eliciting a troublesome texture…
Ugh. Only a small bite required to force its rejection. I put it down. These NWO foods are not only dangerous but nearly tasteless. Textures are troublesome. At the onset, it seemed inconceivable a nationwide chain of corporate-run retirement homes would be out to eliminate its long-term paying residents.
But then again, food purchasers for these globalist business travesties may be unwitting dupes. Or they may be witting co-conspirators, receiving bribes and handsome payola, in the behind-the-scenes eugenics war against the innocent. Five hundred million for a worldwide demographic is the intense goal…
And 9,000 tons of crickets per annum, from one cricket producer alone, must be moved or investments will be lost. An already-proven market for profiteering cricket dissemination is the snack genre. Cricket cookies for Cancel Culture complicity must appear as desirable snacks – or face consumer rejection…
(Anti-WEF anti-cricket protestors Click Here: https://www.brighteon.com/3448fce2-604d-49da-90fc-6f087d04cdd9 Also see Parasitic Worms Inside Crickets Click Here: https://www.brighteon.com/d6036a31-1247-453c-b1be-b10d2cdb7282 Crickets Unsafe in School luncheons and grocery stores Click Here: https://www.brighteon.com/c0ff0182-5da5-4a2f-9459-39f83b21e0a0 )
If the WEF Cancel Culture profiteering snacks were cricket content alone, in itself it would be a Criminal offering. The human condition cannot digest chitins from crickets. No way. And other living undesirable organisms invade crickets as the host, subsequently finding their way into humans for criminal contamination…
Meanwhile, mercenary cricket producers are profiteering from the IKEAD foods market (including IKEA cafes), Burger King and A&W. A&W on just some of its burgers are using a strong horse radish – highly unusual for A&W – to cover up both taste and texture of its "meat." It must be noted cricket infiltration does not appear to extend to all its sandwich offerings, at the moment…
Until this heinous "cricket industrial complex" is dealt with, long-term storable foods will be increasingly in demand, not just for longevity in storage but purity in content. A greater discernment is now needed at globalist grocery chain stores. Indeed, an SDF (Senior Defense Force) will be mandatory for family members and friends of seniors….
The CBC – still "validating" Tam for continued promotion of eugenicist scam-vaccines in Canada – known by truth seekers and populists in Canada and America as the Communist Broadcasting Network (MSM Fake News scripted propaganda) reveals it is complicit with the heinous NWO agenda in the following:
FURTHER READING ON CRICKETS MISLABELED AS "PROTEIN POWDER": https://www.cbc.ca/news/canada/montreal/quebec-first-large-scale-edible-insect-farm-to-open-in-the-fall-1.4750316
https://www.cbc.ca/news/canada/montreal/insects-superfood-powder-1.4434849
https://www.cbc.ca/radio/day6/episode-380-russia-assassinations-cricket-farms-madeleine-l-engle-s-grandkids-disney-social-clubs-and-more-1.4565659/bugs-as-livestock-a-canadian-insect-farm-is-taking-cricket-powder-mainstream-1.4565666
https://www.cbc.ca/news/business/cricket-powder-loblaw-1.4563956
https://www.cbc.ca/news/canada/prince-edward-island/pei-cricket-protein-powder-grocery-store-1.4560177
IMPORTANT VIDEOS!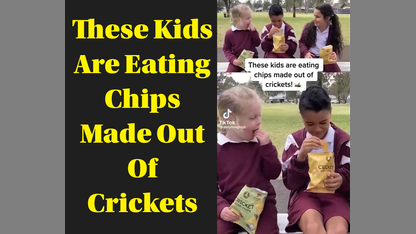 These Kids Are Eating Chips Made Out Of Crickets
DISTURBING: DANGER: Mega Companies QUIETLY Adding Crickets To Food: Crickets In Our Food
Contrarian (Excellent Video EXPOSING Cricket "Food")
DANGER: Mega Companies QUIETLY Adding Crickets To Food Crickets In Our Food